Reviewing the Past
Photos of my life are at the end of this article. Click on green highlighted links on names to find individual Family Group Sheets &  specific records.
My own family history has been researched back to Northern Ireland to William Gillespie who arrived in Canada and was working in today`s Province of Ontario by February 1829. An immigration record indicates his assisted arrival that year. Winter in Canada can be brutal, and he had little time to make his adjustments. As a young man barely in his twenties, William didn't know he would only have about 12 years left in his life.
It is interesting that in a major conference speech his name and origins are discussed and clarifies that he gave his name, parish and townland or village where he came from in Ireland.  William Gillespie, Clogher (Parish) Sciby (townland, which should be Screeby). In checking the Tithe Applotment Books in Ireland for the 1827 to 1835 period, no Gillespie is living in Clogher Parish close to Five Mile Town. William stated that he had relatives (a different last name) living in that village. There is a Samuel Gillespie in this area in Ireland some 30 years later from Griffiths Valuation records that interest me in this research, because of the name and possibility of a link to our family line.
William found work on the crew that was building the Rideau Canal in the Bytown area of Carleton County of Upper Canada. This Canal was an important link to Kingston in order to move troops behind the lines should an American invasion occur across the St. Lawrence River. The Government was worried about an attack, which did happen, and part of the reason they promoted immigration to settle the wilderness areas and increase population.
William's arrival at the beginning of the 1840 migration of Irish immigrants to this region is itself significant because something pushed a large group of Gillespie Irish out of Northern Ireland in two major waves to Canada: 1820 and 1840. What prompted his journey will probably never be known, except everyone wanted a better life,  even as we do today. Canada was offering free land and implements to attract settlers. Most people in Ireland were tenant farmers on land they could never afford. So this offer must have been attracted their attention because so many people responded..
It had been a six-week crossing of the Atlantic ocean in a returning lumber ship to North America, then down the St Lawrence River to Montreal. Departing the ship here, the immigrant had to find a ride in a smaller boat deep into the interior, followed by a walk on shore along a rough trail cut out of the thick bush. Upper Canada, or Canada West as it became, and now called the Province of Ontario, was a place of huge towering timber trees and endless cedar swamps.
Lumbering was the main business of the region where William settled. That and shipping barrels of potash for fertilizer. Everyone was cutting down trees and burning them, and people soon learned the value of those ashes. People also quickly tried to obtain a milking cow and other livestock,  and planted a big vegetable garden to help feed their families, even if they had other occupations than farming. Settlers were required to clear a certain amount of land part of their settlement claim. William cleared 15 acres of his 50, then stopped working on that.
Near the settlement of Bytown on the banks of the Ottawa River, shanty town sprang up where most canal workers lived. Most of them were Irish immigrants like William. He may have stayed there for a few years until he earned enough money to buy his own land.  It was a rough settlement of buildings on the eastern side of the growing community of Bytown, (now Ottawa) a growing town with its military presence and fancier homes for army officers and government officials.
Gloucester Twp was a large track of land beginning a few miles south of that area, and had the Rideau River and Canal on its western boundary. This area offered better farming land, once the trees were cleared and livestock grazed its fields. It was here that my family settled just south of Billings Bridge, as they created their life in a growing farming community.
William Gillespie married an Irish lass from County Sligo, Elizabeth Atkinson. I have often wondered how they met. Was it aboard the same ship, or did he find her locally? I have found records for only one Atkinson family in the Bytown area during William's early years after his immigration. Was it Eliza's brother, Robert Atkinson who also worked at canal building?  If so, Eliza's parents had remained in Ireland, "with a large family near Ratherlusk." I was able to track the family in Ireland only two earlier generations before hitting a roadblock of two men with the same name, and no way to distinguish between them.  Atkinson land in Ireland was near the sea to the west of the town of Sligo,  that I visited in 2014.
William and Eliza had four little ones: Saml, Mary Ann, John and Martha. He died suddenly just before Christmas 1841 when he was stabbed in a fight. Oh the Irish temper. He lay in deepening agony of blood poisoning for five days, because there were no antibotics back then to save him. It would no doubt be Samuel Sr living nearby who would help Eliza and her children during the following years. The two families appear in the same locations on the 1851 census, but Eliza remains a widow, and Samuel has not married either.
It was William and Eliza's son, John Gillespie, that took over the family farm about 20 years later, living with his sister, Mary Ann, both single in until both of them married and started families of their own.  Eliza, her son  Sam, sister Martha, and the Gill family into which Mary Ann married, all disappear from Ontario by 1861 with Samuel Sr. He has sold his farm. They are too young to have all died during the past 10 years.
It was both the Irish and Scottish naming patterns that helped identify William's father or grandfather in Ireland as probably Samuel Gillespie. How interesting that this name was passed down every generation in our family history, even to my own brother, Sam. That is partly why I think there is a high possibility that the Samuel (Saml) who travelled from Ireland, and lived near William and Eliza may have been William's brother. Samuel would have been the third born son according to the naming pattern, so there is another male Gillespie siblings unaccounted for.
Having studied Gillespie names for many years, Samuel is a Scottish name, not an Irish one.  It is highly probable that our roots are Ulster Scot, that is linked in Ireland back to another homeland across the Irish Sea.
During the 1600s, especially 1680s, in two waves of expulsion of Catholics in Ireland by the King in England, Scottish immigration had occurred to five main counties in Northern Ireland.  Scots were encouraged to settle the lands of Catholics who had been forced to flee elsewhere. Thousands of Scots mainly from the southern part of the Scotland moved to Irish soil. I have been studying the locations from where the Scots left and the estates where they settled in Eire. By a process of elimination, I believe my own family probably came from Ayrshire,  but I have no proof in records for specific Gillespie names.
All Internet records stop about 1630. Earlier records that still exist on parchment are held in restricted areas of libraries in universities. Even the Mormons have been unable to access them, because my search in Salt Lake City indicated that. One may read about a person or that something occurred earlier in the 1500s, but I want the actual record, which has proven impossible to get. I am also blocked in Ireland research at the moment as I sift Scottish records trying to identify that lead to prove my Scottish heritage. However, I know from a lifetime of research how important the naming pattern really was for both the Irish and the Scots. It wasn't until about 1850 that it finally began to disappear in North America. It is an important tool for researchers.
There is a Saml and Eliza Gillespie buried in the Toronto region that I have researched,  but no confirmation has been found that this is my own family. Did my family return to Ireland? I cannot find them there. Did they move to the States? That seems a strong possibility to me.  Everyone seemed too young for all of them to have died by 1861. I especially checked Quebec records, and other provinces, although the major movement out West did not occur until the 1880s.   I cannot find them. So the search continues.
John Gillespie was my grandfather, my Dad's father. He is remembered by the family as a 'hard man." He was a farmer his whole life  John married a woman from Ireland who lived across the Rideau River in Nepean Twp, Elizabeth Ann Mulligan's  family arrived from Ireland considerably later than the Gillespies. John and Elizabeth had 10 children, and lost three of them when the children were very young. This must have depressed her deeply. My father was only a few days old when the two year old toddler died, their first little girl after so many boys. And then another baby, and then just as the older ones began leaving home as young adults, a  little five year girl dies. And we think we suffer?
To add to this, the Gillespie farm home burned down in the 1870s when a huge fire raced across the county side, devastating the Gloucester Twp region. Did any of the children die in this fire, as I look at when the date when they lost Nathan?  How many buildings were lost is unknown. John rebuilt and the couple remained on their land, farming all their lives. Then John's wife, Elizabeth, or "Betsy Ann" died suddenly at age 56 in 1898. By that time most of their older children had would have left home. Mabel was 15. and probably there. My Dad was 23. But Mabel disappears soon as well, because John is alone at the turn of the century.
He married again, at age 60, a much younger woman who was living nearby, Mary (nee Davis), a widow of William Clifford, one of the boys who had grown up with the Gillespie children in the neighbourhood. Mary had four children from her Clifford marriage, whom John then raised. He and Mary had only one child together, Ruth Amy Gillespie, my Dad's half sister, who as an adult married three times and lived in the City of Hamilton. I interviewed her in her senior years. She has since died.
Of my Dad's siblings I only got to know one with one of them a little bit through correspondence. My Uncle George and I exchanged letters in the late 1960s when I first began this study. He gave me the first listing of his family members. Most of my Dad's brothers, including George, are buried near each other in Pinecrest Cemetery in Nepean Twp. I did phone one of Uncle George's daughters  but got a frosty welcome and very few details to help me. All of them have died long ago. Except for a brief communication with later family members of one family, all of this research was acquired through records found over my own life time.  And sadly I have not been able to find any burials for my Grandparents and those living earlier than that.
History passed down to me by others says that at least one of Dad's sisters moved to the States, possibly Gary, Indiana. I've been unable to identify her in records, and if she married, because there are too many people with the same name.  I also wondered if possibly there was an older link to this area from the 1861 of earlier missing family members but that too has no clarification, only supposition. I also spent time hunting records for Nebraska simply because I found a marriage of an Ottawa Gillespie who moved there. Again, however, no lead appeared to the people that disappeared.
There is some discussion about the original family coming from Aberdeen, Scotland. I have identified many origins for the earliest Gillespie families across Ontario,especially since many counties had only one nationality in it for many years.That was due to the volume of Irish immigrants arriving on a ship during the Potato Famine in Ireland, and given the same location of land to settle for all its passengers. Thousands and thousands of desperate Irish were arriving from abroad. The Scottish Highland clearances also affected this same result in Canada, and the two nationalities remained separate for many years within the Province. This  mass immigration peaked between 1845 and 1850.   .
The majority of Scottish Gillespies in the province of Ontario came during the 1830s from the Isle of Islay off the coast of Glasgow, Argyleshire,with a few followers from Islay arriving as late as 1851.  Other Scottish Gillespies have been identified as from Perthshire, arriving at different times and a few others from Stirling.
I found Aberdeen, Scotland only identified in one location in the Province as related to Gillespies. That location refers to Dad's third marriage to the granddaughter of Scottish Gillespie immigrants, James Gillespie and his wife Margaret Cameron,  from Aberdeen who settled at Morewood, then Chesterville, Dundas County, just south of Gloucester Twp where Dad was raised. Yes, my father a Gillespie, married the daughter of William & Lucy (Beach) Gillespie, son of James Gillespie a merchant, a business man. He became the undertaker in Chesterville in his later years. His son, William Gillespie, operated a grist mill in Morewood, where Minnie was raised.  I found a write-up that William and his fashionable daughter often went bike riding on Sundays along the road from  Morewood. I drove that road thinking of them. I visited William's original home in Morewood with my brother, as the current owners were glad to show us around. I have original  photos of my Dad visiting Elizabeth's parents in Morewood in the early 1911-1913 period.  They enjoyed picnic lunch on the front lawn.
PHOTO   From L to R  Probably William's daughters on bumper, then wife Lucy standing beside car, William in driver's seat, unknown woman on R who looks like Minnie, and my Dad, Sam Gillespie. The baby in William's lap might belong to one of the girls.
I have also wondered if  James Gordon Gillespie Sr of Chesterville might have been involved in land transactions pertaining to the property in Gloucester Twp just north of Morewood. I am unable to identify any other James Gillespie in the region that could be linked to our family line, hoping I might find that missing brother of William.  If it was this merchant, James Gordon Gillespie, who bought and sold Gillespie land in Gloucester Twp, and I know he definitely came from Aberdeen,Scotland,  that could explain why perhaps family history passing down verbally in generations may have gotten mixed up.
Harold Scharfe & my father, Sam Gillespie
My Dad's Life – Sam Gillespie of Billings Bridge, Ontario
My Dad was the 5th born child, and fourth son of a large farming family in Gloucester Twp,  Carleton Co, Ontario. He apparently left home early, as did many of his siblings, to work on a boat on the Rideau Canal, which runs between Ottawa and Kingston.  He married very young, says a family member, but no early marriage record has been found to support that. He married Amy Hyndman of Dundas County in 1903, when he was living in Kingston. Information from another researcher says they had a flat in Quebec in 1905, the year their daughter was born,  Amayllis Eileen Gillespie. Sometime between then and 1911, the couple separated. They were divorced in December1917, says another reseacher. I have never been able to find that record.
Apparently Amy and her child, by age six, moved west with Amy's parents and siblings to Calgary, Alberta.  After a few years there ,  Amy and her family, with Eileeen, now aged 10 ,  moved to Vancouver British Columbia. Eileen died of tuberculosis in January 1926, age 20, and is buried in Ocean View Burial Park in Burnaby, BC.
Meanwhile,  Dad found a new love interest, also from Dundas County. He a Model T Ford car and he and Minnie Gillespie from Morewood loved to travel across the Province. In 1913 had a flat in Quebec (from his comment on an old photo). Dad and Minnie moved to the States during World War 1 to live in Youngstown, Pennsylvania and Toledo, Ohio. He was facinated with the Wright Brothers' attempt to fly. My Dad was in charge of an ammunition factory, which I have also tried to trace.
Minnie and Sam married in the States in 1918.  At some point Sam had a nasty motorcyle accident, and the couple returned to Toronto after the end of World War I. I found their home on Gillard Avenue off Danforth Avenue in the east end of the city of Toronto.
Here Minnie became very ill with kidney failure. Her mother Lucy came to live with them from Morewood. Lucy (Beach) Gillespie was a widow by then as William had passed away.  Minnie and Sam never had any children. She died in Toronto in 1933, age 57. Sam and Minnie had been married for 15 years, and probably together for five years before that.   Both are buried together in Park Lawn Cemetery in the east end of Toronto. My father died 21 years after she did, in his 79th year in April 1954, after two more marriages.
The shock of finding an unknown woman buried beside my Dad started this whole genealogy journey for me.  I come from his last marriage (1943-1954).  My mother outlived him by another 40 years. I have two brothers. Mum  told us about baby Norman, whom she lost between my brother Sam and I.  When I began my research I knew none of my father's history, even the names of my grandparents.  I visited Aberdeen, Scotland and Northern Ireland in 2014, thinking of my ancestors and others  who left for the great unknown, some to a better life, others dying in the process.
It was the second marriage record for Dad's father, John Gillespie, that clearly identified his parents as William and Eliza (Atkinson) Gillespie and focused on people I was already researching. I traced every William Gillespie in Eastern Canada I could find in early records, sifting each one carefully for clues. It was early family land records and especially year by year early census while William & Eliza lived on the farm, that added slowly over time to my identification as to which William Gillespie was mine.  The McCabe List of Rideau Canal workers fine tuned that understanding, naming the origin location, and tied in with the immigration record.  William Gillespie and Eliza had an adult woman living with him for a first year on the farm, but she appears only in the first census. Another record seems to indicate she was a sister of William who married and moved to Leeds County.
Let me identify Dad's siblings, and a very brief summary of their lives.
William Gillespie, (1868-1943) the firstborn son of John and Elizabeth Gillespie (and probably honouring a father that John knew as only briefly as a child), married Lena Shore of Goulbourne.  They spent  their early years near the Ottawa area with some time in Stittsville. The couple had five children and their first born son drowned in the Rideau Canal. William and Lena moved to the Windsor area of Southern Ontario, and in their later years, this couple divorced. William is buried in the Windsor area and died about age 74. I interviewed William's daughter Mildred in Hamilton, who provided insights that paper records do not.  The Gillespie family Bible of Elizabeth Mulligan is held by a Mormon granddaughter, Barbara, and I was able to obtain the records from it, handwritten many years ago.
2. John Gillespie (1870-) lived in Ottawa and married Lily Cook in 1892. They had two children, one of whom died as a child.  I believe John was a farmer. One of their children died at age 3.
3. James Gillespie (1871-1970, age 99) had an adventurous life joining the Canadian Military and fighting in the Boer War in Africa (1899-1901) He married  Ella Cummings in 1901 soon after his return. They had five children.  The family lived in Hazaldean. James was a fireman.
4. Elizil Gillespie b 1873 died age 2, eight days after my father was born in July 1875.
5. My Dad, Samuel Gillespie (1875-1954) was quite the ladies man I gather. That he had four, possibly five wives attests to that.  He had lived near Goulburn, said someone in an interview and then moved to Kingston. He had a flat in Quebec at two periods of his life in the early 1900s, but locations not clear.
Sam did marry Minnie Elizabeth Gillespie from Morewood in the States in 1918.  War days, and I have a copy of that marriage certificate. After the couple moved back to Toronto, Minnie became sick, and died.Sam was alone again.  A year later, he married a friend, Mrs Evelyn Locke (nee Iron)  in Riverdale, Toronto in 1934.They had five years together, but once again tragedy struck when a pet squirrel she liked to feed, bit her one day. The bite developed  gangrene, and she died from that blood poisoning, a story passed down to me.
Sam married my Mom, Mabel Miller, in 1943, and they had eleven unhappy years together. He wanted children.  He  moved us in 1952  to Coe Hill in Hastings County to a farm he purchased from Roy Wilson on the edge of the village. But my father lived in his factory in Toronto, having sold the house to fund the change.  He took Glennie to live with him in his final years, visiting the rest of us from time to time. Sam Gillespie died in his factory in his 79th year in 1954. All of his children were under 11 years of age, and his passing a terrible shock to us all.
My Dad trained as an engineer I am told, but cannot find any record of his education in either Kingston or Toronto University records. I thought he might be a tool and dye maker.  During his senior years of his life, he was a salesman, and hired several people over the years to work in his plant, including my Mum and her sister Winnie. That is how they met. I have a photo of an ice box refrigerator he apparently invented, but he lost his creation because he did not get it patented, so I have been told.  Other family members also told me that Sam would suddenly appear from time to time flaunting his wealth, smoking his nasty cigars, active as ever.
6. Martha Gillespie (1877-1945, age 68) married John Shore and lived in the Stittsville/Ottawa area. They had four Shore children between 1899 to 1909. John Shore was a carpenter.
7. George Gilllespie (1878-1968, age 90) married John Shore's sister, Martha Shore in 1902 and lived in various places such as Toronto, ending in Ottawa.  They had 5 children: one son and four girls between 1902 and 1910.
8. Bertha Gillespie (1881-1886) was only a child of five years of age when she died so young. I have no details.
9. Mabel Gillespie 1883-  I have no information regarding her life.  She may be the person who moved to the States.
10th = a son Nathan Gillespie only shows up in one census, then disappears, and Uncle George did not include him in the listing of family members.
Ruth Amy Gillespie, b 1902 in Pittsburgh Twp, Frontenac County. Died 1985) a step sister, d/o John Gillespie & Mrs Mary Clifford Gillespie (1863-1934). Three marriages. One child.
Interesting Discovery
My brother had his DNA tested for the Gillespie project, and through it we have proven blood lines to early Gillespies in both Washington Co, Pennsylvania and Washington Co, Tennessee, with other links to North Carolina and Ohio.
If you view the chart on the Gillespie DNA website (see my menu bar for that link), our blood line is  grouped with M223, and is #70 family unit on the 2nd chart mentioning William Gillespie of Clogher to Ontario, Canada.  Our William Gillespie apparently belonged to the Screeby Gillespies, mentioned in Irish history, which is interesting since Robert Gillespie of Massachusetts– who issued the USA newsletters and attended many MacPherson reunions–stated he also came from that line. Robert and Lois lost their only son in the Vietnam War, while I was attending college with many draft doggers in Western Canada.
It took me considerable study to sift from where William originated in Co Fermanagh, as there were three possible locations with the same townland name. I finally was satisfied that Five Mile Town and Clogher Parish and a village right on the border between Co Fermanagh and Co Tryone was our identify of origins. Clogher Parish extends over a large area of both counties .  I checked earliest arrivals and departures of Gillespie families in both the areas of Enniskillen, Co Fermanagh and the border regions that extend into Clones in Co. Monaghan, in order to eliminate those other Screeby locations.
MY LIFE
How much history has evolved in the 187 years since William Gillespie landed on Canadian soil.  As my own life comes to a close, there is only four generations from him to me: William, his son John (born 1838), my father, Samuel (b 1875) and myself born in the 1940s. I have a daughter born in the 1980s and a granddaughter born this year. There is a whole generation missing between my father and I, since he was 69 when I was born. My mother was 27 years old at her marriage. Her life I will provide in a separate essay.
I am probably the last of my family line that experienced farming with horses, and milking cows by hand.  I went through the transition to mechanized farm life and in my 20s worked on a very modern dairy farm. I was only a young teenager, maybe 12 years old the first time I backed the team of horses and a load of loose hay into the barn. I then helped fork that dried grass up into the mow. Sometimes I would be sent up there to tramp down the hay as others forked it up, even throwing it at me sometimes in fun, while I sputtered to get my breath and worked hard to keep up. That barn has fallen down now and my neighbour has died, living into his 90s. The farm has just been sold and is passing out of  Vader history, except in memories kept alive as this one. Thank you, Albert and Muriel, who gave me many happy memories of my youth.
After barn chores, and carrying those heavy pail of milk from the barn to the back kitchen, I loved to dip a cup into the top of the separator and enjoy warm milk fresh from the cow. Or we used some of that thick cream, that floated to the top of a glass milk bottle in the fridge, to whip into a desert topping, or pour some into a bowl of hot cereal. During fall harvest, a crew of local men arrived with a thrashing machine, and I would be busy in the kitchen helping prepare the noon meal.
I was so proud the first time I was given the team of horses to rake hay in a field.  My feet weren't long enough to reach the metal floor, but I balanced myself on the seat with the lines, with the trip chord in right hand. I jerked it as fast as I could when the horses got away from me as soon as I turned them at the far end of the field. The rake tines would bang up against the seat and down again with every jerk of that line, releasing the hay that had been bunched up.  The heavy team would trot eager to go back to the barn, only to be stopped by the rail fence at the road. I would gain control again, and glancing back at that jagged line of hay, I would turn the horses around to try to straighten the rows a bit. Back and forth for a few hours to gather the loose hay into piles that we would later rake up into big coils across the field, then pitch onto the wagon to take as loads to the barn. Usually three or four of us worked together in pairs coiling the hay, then loading it on a wagon. We would each thrust our hay forks into the base of a pile of hay and lift together to heave it up onto the wagon load. Sometimes it got pretty high to reach the top from the ground. I miss those days,  even though it was hard work. An old rake sits in the yard as a decoration where I now live, memories of an era long gone.
Family Photos – The Growing up Years
Norma, Sam, Glen  as little children in our Toronto backyard, late 1940s.
My Dad, Samuel Gillespie Sr, and his son, Sammie outside our Kingston Road home, Scarborough, Ontario CANADA. How I loved to hide under that mulberry tree to his right, when it was fully leafed out in the summer. This looks like a spring photo. The background is now in part of a busy city but that road in the photo is today the busy Kingston Road. This photo is nearly 70 years old.
.
Norma (me) & my older brother, Sam
Was I about three?
Norma, Mom (Mable Gillespie) & my younger brother Glen
From L to R: Norma, Sammie, Dad (Sam Gillespie Sr), a little girl, Glenn, another little girl whom I don't remember – people often thought my Dad was my Grampa. Photo about 1950. Dad often drove us into the countryside outside of Toronto.
This is Dad's factory with my younger brother, Glennie outside with some of Dad's garden tractors.
Grade School photo I think. I loved my necklace.
Sam and I (Norma) in the backyard orchard of our home in Toronto. Hey, I seem to be wearing the same dress as the previous photo. I always think of pear trees when I think of that fruit collection.
Norma about age 16 attending Bancroft North Hastings High School for five years. We had Grade 13 back then. I was in the Academic Stream, preparing for University. My brother Sam and my best girlfriend went into the Commercial stream, so I never saw them. In fact I lost all my familiar classmates from public school because of education being streamlined like this.  We now moved between classrooms all day long, something very new,  since I had come from Grades 7 and 8 in a little one room schoollhouse, one row each, and rarely moved except to go outside for recess.
Now it also meant riding the school bus a long half an hour morning and afternoon between Coe Hill and Bancroft, our main shopping centre.  In addition, Wednesday evening band practice was very hard on me, (I played trumpet), as I always had to find a ride with someone in town to get to it so far away, and back home again. Mom didn't have a car. Band trips introduced me to the Province.
My brothers: Glenn & Sam in our Coe Hill home. We had moved to a farm there in 1952.
Norma & Glenn.
Now whose car was that? I was a devout Christian, loving Young Peoples on Friday nights at church, and attending the Christian Club on Fridays at school.  As High School graduation loomed, I decided to go for the next four years 1964 to 1968 to Prairie Bible Institute in Three Hills to study the Bible and Christian Education.  It was there that I was captivated by needs around the world, and decided to serve God as a missionary overseas 1968 to 1970 with Operation Mobilization. Photos of that trip are in my Social Justice column.
I am still crazy for horses to this day. While in my teens, I often borrowed someone's horse in town to go riding across the region, until I got my own horse a few years later.  I trained and showed horses for most of my 20s and 30s, and bought my own daughter a pony, cart and saddle for her 8th birthday. Little did I know that our last ride together that fall would end my riding days. I still long for a horse again before I die. Maybe God will have one in heaven for me. I clean my tack once a year and am keeping it for Lorelei,  my granddaughter and adding to it once in awhile for her.
Norma & Banner 1979
My brother, Glenn Gillespie. He changed the spelling of his name as an adult from Glen. He is an electrician.
Sam, Mom, Norma, Cousin Leona – At the Coe Hill farm. I think I had just come home from Bible School in Alberta.
My Mom – Mabel Alveria (Miller) Gillespie, a deeply kind & generous woman raising three kids alone.
Sam Gillespie married Heather Cowan 1967. Celebrating 50 years together this coming September 16, 2017. Heather was from Bancroft. The couple enjoys retirement in Three Hills, Alberta. Sam is an avid golfer.
From L to R:  Mom (Mabel), her sister & husband:
Winnie & Dave Ross of Toronto
Norma at her desk 1974. Notice the old 'tape recorder'  I was working for two mission societies in Three Hills, Alberta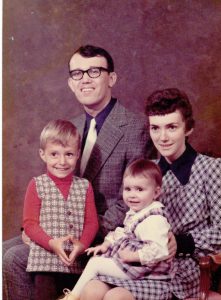 My brother, Sam, wife Heather, and their two children: Grant  & Christine, who are now adults with children of their own.
Flying into Assumption about 1973, Northern Canada to deliver paycheques to the crew building houses on an Indian reserve.  The moment we touched down, mud splattered on the  windshied and we landed blind as we pulled to a stop. The the kids rushed out to great us. I was now working for the Department of Indian Affairs in High Level, Alberta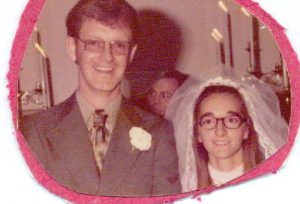 My brother, Glenn Gillespie married Carolyn Wease September 11, 1976. Carolyn is from the Glen Alda area.They will be celebrating 41 years together this fall, and live in the Cornwall area of Ontario. Three children:  Daniel, Ryan, Terri Lynn. Glenn worked for Ontario Hydro most of his life, but is enjoying retirement.
I've done many things over my life time, and one of the best ones was buying the Coe Hill farm from my family. I want to honour an old man who looked after it for me when I went to Toronto to train as a nurse and then after I got married.   Archie Hannah.  Archie had never married and always lived with others for most of his life in the Coe Hill area.  Here he is with George, a purebred Yorkshire boar that we bought together. That old half ton truck was a godsend when I wanted to truck my horse Banner to various horse events. Archie built racks for it and drove us hither and yon. The last time doing that together when I was still single was to the Santa Claus Parade in Bancroft with the Rocky Hills Horse Club. This was in the late 1970s,  before my child bearing years took over and I had to change my focus to my family. In many ways I think I was the daughter he never had. Sadly Archie suffered a stroke at 83, and died in the Bancroft Hospital. Thank you Archie. Those were some of the happiest times in my life.
I moved to Toronto to live with a group of Christian young people, who established Konoinia Communiity, most of whom were former OMers like myself. We had a guys house and a woman's residence across Palmerston Blvd, near Bathurst St and Toronto Western Hospital where I worked after my training at George Brown College. I graduated in 1982 and became a Registered Nurse after writing the Provincial exams.
Norma Gillespe
Author of this website
It was while living at Koinonia in Toronto that I met  Allan McLean, who decided to come with me to Coe Hill and help build a new stable on the farm. He was a city guy who didn't have a clue about agriculture, even how to use a chain saw. But he sure learned when he cut down 200 trees on my property.  I took a log building course in the meantime and was glad for the help. Other friends arrived as well to put on the roof, when we had the log walls up, which reached far above my head.
Allan did take riding lessons because I guess he knew how important that was to me.  I wonder who was the most surprised, when I married him in September 25, 1982?. I think both our sets of parents were relieved we had finally settled at all. I was in my late 30s by then. We only had one horseback ride together with our new daughter when allergies flaired up and he had to stay away from the barn.  Thank you Allan for 17 years and two wonderful children (and the four others we lost in miscarriage). Sadly Allan decided to make a life with someone else, and I have remained alone every since. We had many happy years, and I like to focus on those in my memory, and let go of the rest.
Archie Hannah, Mom, Norma & Allan McLean, Pat & John McLean
September 25, 1982
Allan, Norma & Rebecca (Becky) 1984
Our family with new baby Evan McLean, and David, a foster child, 1988
From L to R:  Glenn, Norma, Mom (Mabel Gillespie) & Sam about 1984
Evan & Becky on a hiking trip
My son, Evan McLean, our hockey player
My grown up daughter – Rebecca at her wedding in Las Vegas, Nevada
My son. Evan McLean married Lindsay Spurrell in Toronto at Ontario Place July 23, 2016.
The Next Generation
As a historian, it is important to me that my blood line is not dying out. First deep sadness, when my first grandchild, Keiran Bonnell, died at London Children's Hospital at eight days of age, December 15, 2014. He contacted Echoli during the emergency delivery process, and it led to Meningitis and destroyed his brain.  A perfectly healthy 9 pound 2 oz little boy we loved so much and wanted. The grief for my daughter and her husband at losing their first child was overwelming, as it was for me.  I remember and honour him today with these photos, even though it is painful to add them. He is as part of this family as anyone else is, and his body rests in Kettleby Cemetery, York Region, while his spirit is joyfully with others I love in Heaven.  Yes, I bear testimony to this wonderful faith and hope that I will see him again, that he is fine, and it gives me peace.
HOPE FOR THE FUTURE
Here it is 2017 as I pen these lines, and Becky and Patrick have a daughter, Lorelei who is almost a year old and growing well. She is a delight, with a bubbling little personality. First photo is the day of her birth. Then sleeping in March 2016. Becky and Lorelei at Evan's wedding in July, and final one is this Christmas 2016.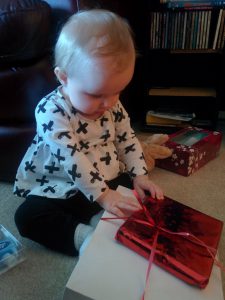 Lorelei April 2017
Such joy with my new granddaughter. And news at Christmas 2016 my son and his wife are expecting their first little one this coming July.
And so time passes in the blink of an eye it seems, and we age and grow old. Not our spirit. Inside we are the same person we were when we could run across a field so easily, walk on top of rail fences in our bare feet, or leap off the back of my horse during equestrian games.  Wish I could get on a horse today or putter in my flower beds, or maybe travel in Europe to film Gillespie graves.   I turn to add more records and journal my thoughts on this website in the hope that it will help and encourage someone else.
Yours truly…..signing off…….
Norma Gillespie
Getting the garden ready at Mom's grave. My place is reserved on the right.
St Michael's Anglican Cemetery, Coe Hill, Hastings County, Ontario
---
 Other researchers have contributed to some of my father's family history. My thanks and deep appreciation.
Family History updated with new information – April 2, 2017; June 28th, 2017.