Every spring and often in the fall, I enjoy the trip to visit Mom's grave in Coe Hill, Ontario, and my little grandson's in Kettleby Cemetery in York Region. With the costs rising up and up to buy wreaths, I decided enough is enough, and learned to make my own. Here is my method and how to do it,  so you can see how really easy it is.
One can make other things from fake flowers, like having seasonal wreaths for an entrance door.  I found a lovely cherub vase and made a display for my bathroom.  There will be a selection of other things at the end of this posting for ideas,  and how Colour affects our lives.
STEP ONE
Gather Supplies: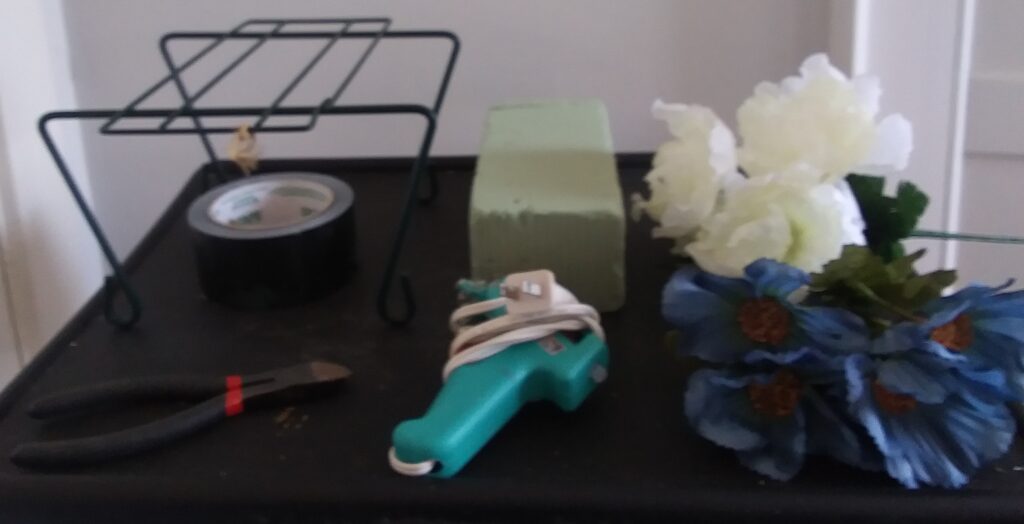 Left to right, back to front:
A tombstone frame.      Underneath some sticky  tape (many colours, but I like black).  In front:   metal cutters 
The Middle:   A block of foam;    glue gun (and several sticks of clear glue)
Right hand side:  Your choice of fake flowers and green leaves 
Other decorative ideas can be:  ribbon, moss, stones– to name a few ideas,  as you get creative.
STEP TWO
Decide on a colour theme.   Everyone has a colour pallette perhaps without knowing it. We instinctively like some shades over others.  Each of us is an individual with our own tastes and choices to make. Some people have studied this area so much they have made a professon out of it. I did not follow that path,  but I certainly did a lot of crafts over a lifetime. This one came to me only as a senior. Busy working to earn a living, I  appreciated buying a nice wreath every year for my Mom's tombstone. Never gave a thought to the cost of that tombstone, let alone the wreath on top of it. Oh,  has life changed.
In Ontario, retail fake flowers range  from $2.95 to over $50 for one item. They are sold as a single flower on  a single stem,  or a small group of 3 to 5 flowers in same colour theme, or a blend of different colours .   All stores have ongoing additions during the year. Because my Mom's favourite  colour was pink, this spring I have chosen to make her wreath in that colour palette. Also, why I tend to add flowers as a part of this website.
I only used single flowers, all of which were $2.95 at Walmart. I had all the other supplies, including the white stems, green leaves, a foam, and moss, all Dollar Store items I replenish yearly. My total cost this month for Mom's wreath was for  6 single stem flower  at $2.95 each 6 =17.71 + 2.30 (13% tax) =$20.00.
I was paying $85.00 for a prepared ones well over 5 years ago. I believe tombstone wreaths are still available,  but probably well over $100.00 now, but have not priced them this year.
THEME:     Peonies.    The additional flowers in the photo  of Mom's wreath are to go in the Memory Garden below her tombstone.  Because I no longer live in that area to care for the garden, I have had a  difficult to use perennials or even annuals to provide continual colour. Too cold; too sandy soil, etc, etc. Not enought moisture most of all.  Hence I am adding gorgeous fake flowers this year to do that.
This wreath has moss around the foam block.  I added it simply using a glue gun. Touch the foam surface or black tape  a bit, then push in the moss. Sticks easily. However, I have not yet tested its ability to handle summer storms. I have always used ribbon around the foam before now.  Yes, I do like ribbon because it helps hold the form all around the outside horizontally. The finished wreath has to be viewed from all sides once on the tombstone. Note: end of July visit finds a lot of the moss gone on the wreath, so obviously not a good choice for out of doors. We learn by experience. The principles remain the same, but the personal touches on many tombstone wreaths are lovely this….increasing a lot in St MIchael's Cemetery. All improve the overall look and express love of people buried here.
STEP THREE
Putting it together:
Tombstone wreaths are usually built quite low and stretched out horizontally.   Although there are principles used in creating wreaths, such as triangles and the angles associated with it, it remains the creator's choice in its appearance. Will it be able to withstand storms during the summer months? Winds and rain can hit it pretty hard sometimes. Lots of trees nearby.
Sit the foam block on the framework lengthwise, and wind the sticky tape around the foam and frame several times to tie them together: left side, middle and right side. Depending on the width of the tape, this should leave clear foam block areas still visible. Some people do choose a very wide tape and cover the block completely. Having looked at them, I have chosen not to do that. The foam piece will not be seen once you have completed covered all areas.
I have never lost a tombstone wreath yet in many years, and I make several for those I love. Mom's wreath is put in place usually in May and later removed in early October of each year. That is summer season in Canada.  Reverse those months to your summer season on the other side of the world.  Because the fake flowers fade a bit over the summer, I always use new fake flowers in each wreath.
Be careful not to make more than one hole, possibly two stem holes in each piece of of the sticky tape around the foam, (which would weaken the whole thing). You can have far more than just six flower stems,  as I did in this wreath. I tried to use wire in the beginning to wrap the wreath to the frame, but it just cuts right through the foam block, so wire is not recommended. Rremember, I have had time to make a lots of mistakes making wreaths, and have learned from them. Do not be hard on yourself, and and just work at it, and enjoy the journey. That is true of life.
Measure each flower stem first (eyeball it against the foam) and cut off any length not needed. Otherwise, you will have long stems poking through the bottom of the foam. A few stems will go almost all the way into the foam, but most should go no further than three quarters way inside.  I like to build the top on 45 degree angles, left and right,  with a shorter 90 degree top flower stem inserted, then fill that space between the key pieces,  so they blend well.
Insert one stem at a time into the foam block. I began with one stem on the top corners  in this wreath and alternated two rows on top. I had already planned to lengthen  this wreath by adding green leaves on the ends.  You can certainly use flower stems for the ends to lengthen the appearance, and then cut the top flower stems much shorter.  Each stem can be of varying heights, but a slopping trend is very attractive, bringing the height of the flowers from a peak to the very ends.
Other Ideas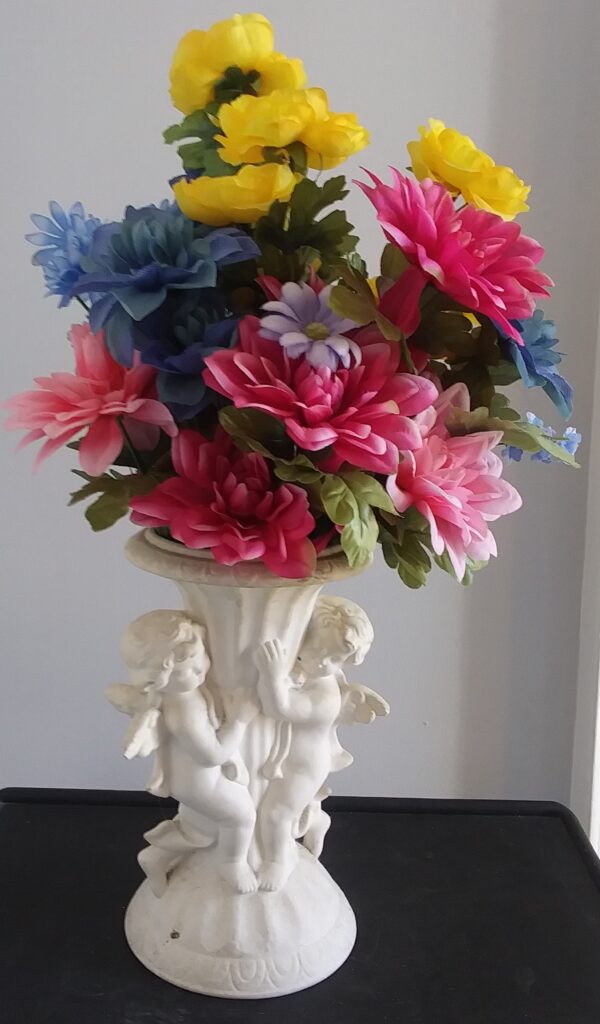 Here is my bathroom container. I can see in the picture that the left side needs to be rejuvenated a touch (move some flowers) The other side has more blue flowers.
Now a wreath below, that uses a lot of fake flowers in a circular plastic frame.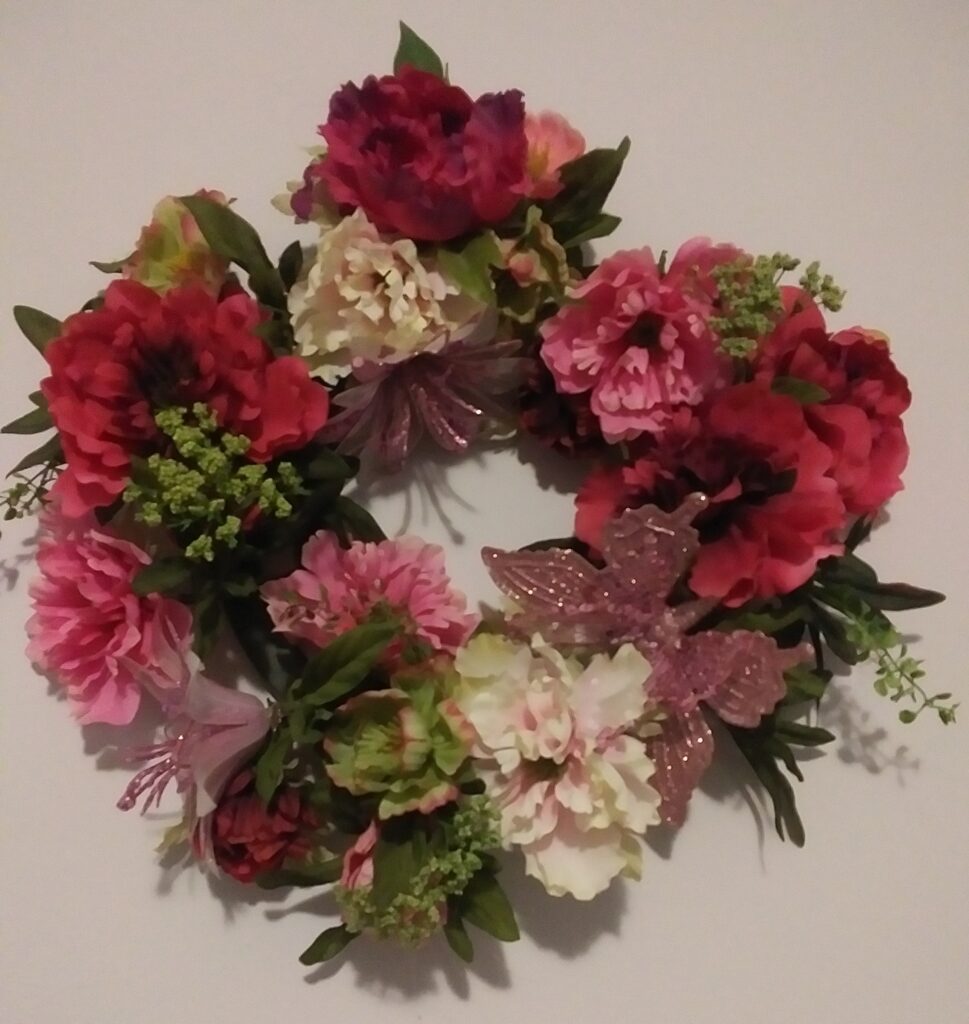 I added that pink butterfly (it attaches by a clip) cause I found lots of decorations with a clip in a bin at Christmas in a store. My,  this  photo make the wreath look red, but it not. Various shades of pink and touch of darker rose.
Long grape vines in a circle, with an almost bare look to the wreath, can offer a completely different style. Flowers and greenery can be any colour you prefer.  Ribbon is a classic addition.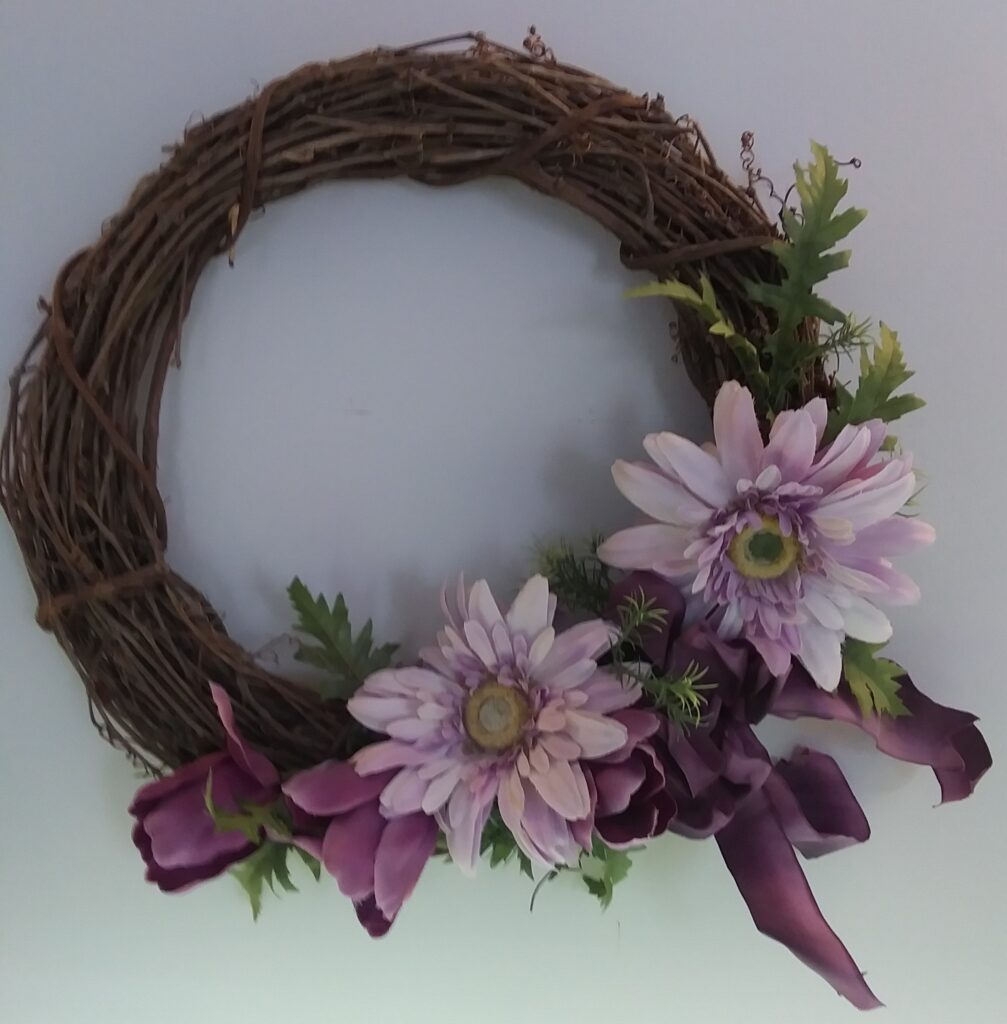 I have this wreath in my living room,  as an  assessory theme colour of mauve. The ribbon  on this wreath needs a touch on an iron, I think, but this wreath has been hanging there quite a while. The drapes on the windows are a darker purple, like the ribbon.
Understanding Colour & Combinations
Colour Wheel:  The principal colours are: Red, Yellow, Green, Blue and Purple. Five Intermediate hues: Yellow-Red (YR), Green-Yellow (GY), Blue-Green (BG), Purple-Blue (PB), Red-Purple (RP). When a color is void of hue it is called a Neutral, such as Neutral Gray or Neutral Black.
Pair your key colour with the colour sitting on the opposite side of the color wheel. Red and green, blue and yellow, and orange and green are examples of  harmony.
Here are some complimentary colour palettes:
Yellow, red, and blue.
Green, orange, and purple.
Teal, magenta, and gold.
Royal blue & peach (trending) …
Blue & pink (classic) …
Charcoal & yellow (classic) …
Red & yellow(classic) …
Lime green & electric blue (trending) …
Lavender & teal (trending) …
Cherry red & off-white (classic) …
Baby blue & white (classic)
How does Colour Fit Into Our Life?
There are many ways in which studies have shown how colour can affect us positively, or negatively. People have a natural attraction to a certain palette of colours for their clothing and assessories. Certain shades can brighten our overall look, or tone it down, even make us look washed out. Lighting,   or lack of it,  can affect that overall appearance. Do we not seek sunlight when wanting to get a more accurate look at something?
Have you noticed how many SUVs are in Burgundy?  Add a touch of grey or black trim, and wow,  Why is white such a popular vehicle colour?  White vehicles pose a  danger to me of disappearing into a ditch during snowy winter and not being found.  My vehicles have spun around a few times on icy spots.   Add the black trim to a white vehicle, however,  and  suddenly I notice how  fashionable and appealing it really is.  I will never buy a vehicle unless I really like its colour.
Car manufacturers know this about women, perhaps slightly less so for men who check  engines and power, even noise ( zoom-zoom-zoom responds to the gas pêdal of my neighbour' latest car with its double exhaust). Do you prefer Florescents or Pastel? The one adds sparkle and excitement, while pastels quieten. Some people love the limelight, parties and fame, and they are the Extroverts, who  often are our leaders. They can step into a situation with charisma and take control easily. Other personalities, however, prefer to watch, remain aloof, and quiet. The Introverts, whose inner life is full of thinking and observation. They see life through a different filter. The greatest musicians were introverts,  pouring their feelings into masterpieces. So colour can  reflect how we feel,  and how we act. So often we don't even realize it.
Yes, Colour reflects our personality. Testing said I am a Gold/Blue for a strong Traditionalist, and a light Melancholic Personality. Is this not revealed in my  love of music, a need to create beauty, and a spiritual tone? Although friendly and outgoing, I do prefer Psychology over Mathematics ( I think I gritted my teeth all through Algebra in High School).  I prefer the Arts to  Science, but glad for both. The  personality of a Blue hints of a sensitive, caring nature. Blue is the colour of choice for an outfit for a  Job Interview.  Colour may even reflect how others see us.
Browns and Grey personalities, even some Greens, prefer intellect over emotion, and use research to make our lives better. We need all types to bring out the richness of life. We are a blend of traits in our personality, even though one may seem dominant. Colour can reflect how we view the world.
Grey is a difficult hue. Some shades I like and some I don't.  The lighter it is, I think of Silver,   reflected in statues on the lawn or a choice by some in jewellry. Grey walls has been popular of late, but for me they proved depressing.  I lived eight years in a bedroom with  soft, yellow  painted walls  and never wanted to change it. I even owned a yellow Vega years ago. Yes, I like yellow. Such a happy, uplifting colour.
Why do companies spend a small fortune to  develop one colour as its signature Identity?  Orange for Home Depot; Blue for Walmart, and so on. Red and White for many newspaper websites, who want to grab out attention. Did you notice what two colours I chose for this website?  Blue and Green.
Colour can stimulate,  or calm a person. Hospitals, doctor's offices and addiction treatment centres use specific colours on walls, etc to help control situations.  Touches of accent, like a stonger colour of pillows on a neutral colour sofa, can add a hint of spark to a quiet,  comforting,  living room palette. Yes, colour can control us in our behaviour and our reactions.
In Gardening, cool, calming colours belong in  a resting place on the  deck or balcony, or even the front entrance to welcome visitors. People contantly judge situations,  and may feel welcome or not, just by the entrance to a  house.  Colour is a selling point in real estate. Strong, dominant reds and oranges belong to the play yard  where they support the enjoyment of activities.
If wondering what colour to use in any setting, pause to consider, "What will the purpose be?"  
Yes, even the colour used in wrapping of gifts affect how they are received.
As a birder, I want to attract hummingbirds to my  feeder. I know they prefer red, orange and pink flowers with tubular structure so that is why a birder may position the red feeder in a  garden area that has with red flowers, like Salvia, and shrub combinations where birds and other animals can hide for safety and rest, retreating into darkness.
Black is perhaps the best selection for anyone  who seeks privacy, safety, and why it is the chosen choice for those who want a slimming effect.  Black is powerful. It is not considered a colour.  Hollywood uses black to establish a mood in movies. So do individuals,  as they face the social world. Black is the most classic choice of all. You will either like it, or not. Colour causes reactions in ourselves,  and in other people.
Designers want to  introduce new shades every year, be it in vehicles, furniture, clothing and accessories. Fashion fluctuates every year it seems, but in the cycle of colour, the principles remain the same.  A touch of sparkle in one's hair for a Christmas party, might be fun, but another person would be horrified at that.  Just laugh at the world sometimes, and do your own thing.

Love you, and miss you so, Mom – photo at Lake Louse, Alberta in 1968. She came out for my graduation from college. Her only trip West.
The finished wreath at Coe Hill on Mom's tombstone: