Wish this was a who-dunit, like an Agatha Christie plot.  It is personal delights of a visit by someone in my past. We were part of a trio of single girls, 42 years ago. I tend to think old friends are treasures  of the heart. Let me introduce her.
Virginia and I graduated from college and marched the streets of Toronto with about 200 others for our Nursing celebration in 1981.  We have lived apart since then, going in different directions as life unfolded.
Family & Friends at my Nursing Graduation, July 1981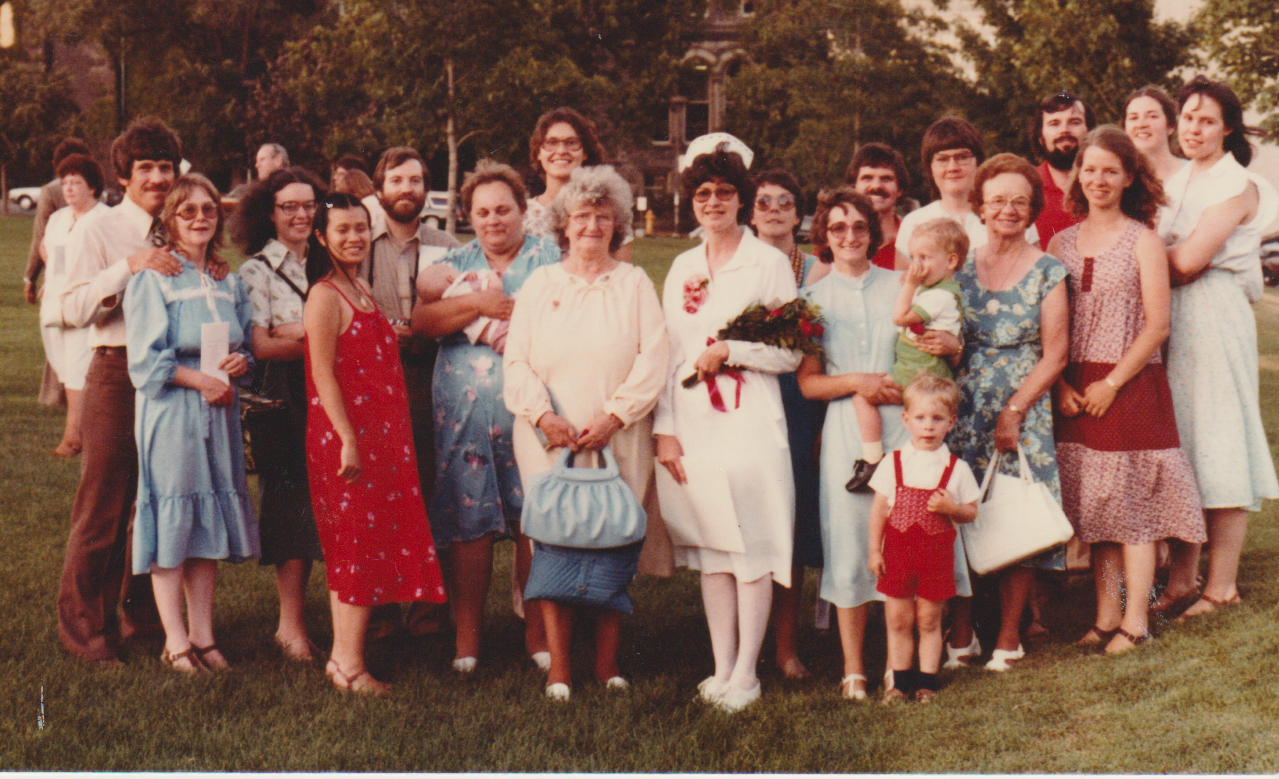 I had already travelled extensively, was well into my late 30s, and after this graduation, soon settled into married life, raising  children, and working part-time in my medical career. Somewhat younger, she left for a military life, serving in Bosnea, Sri Lanka (Ceylon), etc, and various Canadian postings as a Mental Health Nurse. Never married, but did find a partner,  who  just died in 2018. She had disappeared from my life.
It was on my vacation to the Maritimes in 2019, that I thought of Virginia, sent her an email. Guess who met me in Moncton, New Brunswick train station?  She had driven miles to find me. I hadn't seen her since a college reunion years ago. After hugs and exciting greetings, we went to a nearby Irish pub for lunch. There was a live band that was delightful, I got my favourite restaurant meal:  Fish and Chips. Satiated, we walked along a street to to look at antique cars, as there was a rally in the city. We drove to a local park and sat and talked until it was time for my train to depart.
Since then we have chatted over the phone many times. Now in June 2023, I got a message Virginia was coming to Ontario and wanted  to visit. I was thrilled, and tore around to get my home 'spick and span', planning meals, and bringing in a few things I needed. I love to entertain.
We both now live alone but in different provinces. Adventures in life have slowed down a bit now– just as our walking pace has. She loves the bagpipes and everything Scottish.  I can whip up and down the keyboard in flair as a pianist, and love the Irish part of my heritage. I'm Scottish, too, but she shines on that side far more than I do. We are both Canadians, and proud of it.
She's Catholic: I am Protestant. Politically, fairly close, but not about its leaders.  None-the-less, it is amazing to discover how much we do agree with such different personalities. I am fairly outgoing; she is quite reserved. In the past winter months, we have had three-hour phone conversations about touchy, touchy things: try politics, religion, money,  relationships, Trump…..especially finding out where we have travelled, and so on.
Not many people have a friend, as I do,  who can talk about Afghanistan, where we have both been, but at different times. She gives me insights about military life, and I provide challenges to all of it. Although interested in military  matters, I  stay away from its dangers. I have also had Post Traumatic Stress Disorder, so we spent quite a bit of time exploring mental challenges and insights.
I love this type of relationship. It is so rare to find someone you can really talk with about deeper things. I throw in a few new ideas to stir the pot,  like subjects outside her field, especially prophesy involving the Middle East and future events. I love Old Testament History and research it a lot, especially the different empires that ruled the world.  She has a degree in History, if I remember right, but over a life-time, our interests sometimes change. I hated History in High School, but now it is a focus in my senior years. She has shifted to her Scottish roots and bagpiping. I love visiting cemeteries and filming tombstones, but doubt that would interest her at all.  We talked about taking a trip together.  I suggested a Scottish Tattoo here in Ontario or Scotland. She already has dates to participate this summer with her New Brunswick pipe bands.
She arrived by noon, texting me from across the street she had arrived. We hugged and smiled.  Intoducing her to my apartment didn't take long, and the first order was of course, Tea, please!
Having lived with the British in India, I knew the pôt has to be warmed first, and then hot water added to the tea. Any milk comes later. I even found my knitted blue and white tea cosy for the teapot. We laughed over my comment about this. They say it tastes different, but I can't tell. I hardly ever drink tea.
Here is Virginia on my sofa. Disgusted to find the photo slightly blurred, as I  must have jiggled my cell phone. Only photo I took, so learn a lesson from me, and take lots of pictures. She did. I was too excited and much too busy.
We relaxed later with a quiet walk around the block in my neighbourhood.  Yes, she did play me a tune on her bagpipe chanter. When I made the comment, we may not see each other again at our age, we both were quiet for a moment. One never knows!  She spent the night, and after a hearty breakfast,   drove away the next morning, in that long, long drive all the way East to her private life in Fredericton. Some time later, she texted me that she was safe,  and grateful for our time together.
Sharing these memories is my way of preserving  history, and trust  you enjoyed this visit with us. Looking at that group photo above brings back many other memories of other people who have meant  a lot to me over the past. Wherever you are, you are remembered, and you are appreciated!