This is a reprint from an article in the Gillespie Family History Newsletter, used with permission by American authors Jim & Alice Byrnes.  Written some years ago before the Pandemic, some information may have changed slightly, but should easily be checked using a search engine. To see any place in 3D, use Google Earth.
After making five trips to Ireland and with number six already in the planning stage, where does one start in describing previous travels? Who knows what the future will bring? Alice thinks that unspoiled Donegal is the place to retire, but I think I would prefer Naas in the horse country. What follows may help a first time traveller.
First things first. The weather. According to Fodor's travel guide, the temperature in Ireland varies 43F in winter to 68F in summer. Check the Internet for current weather temperatures. During the winter months, plan to dress in layers: a sweater and jacket, or a coat with removable lining (rain and shine preferred)
Travel in off-peak months, if possible. Each of the airlines, Aer Lingus, Delta, Northwest and American all have some unique advantages, but you can't beat the flavour of Aer Lingus.  You are already in a bit of Ireland, even when you first board the aircraft.
We have travelled to Ireland in January, February, May, November and December, and on each trip we have packed less and less, leaving  space for our purchases on the return.
At Irish Fest in Milwaukee, Wisconsin, the largest Irish festival in the United States, you can visit the Aer Lingus counter in the travel pavilion and maybe get some special deals. One year it was two round trip tickets for the price of one provided that you travelled between certain dates, and that we did.  The plane was loaded with families taking their children on holiday, at prices they could afford.
Escorted tours may appeal to some travellers, if they include the sites that you want to visit. However the route does not change, and does not normally visit Northern Ireland.  Self drive vacations take imagination, left hand driving, narrow roads, and age limits, but they do allow flexibility to go to the sites that you personally select. The roads are generally well marked, and the rental companies provide good maps for driving. Most of the major rental agencies like Hertz and Avis are available, but do consider National, Alamo and Dan Dooley for lower rates. Cars rented in either the Republic or Northern Ireland can travel anywhere on the island, although rentals in the north appear to be a little more expensive.
If you fly into  Dublin and plan to do research in the city and don't need a car right away, you might take the Flyer (bus) into the city and save a few euros. Some car rental agencies have local offices downtown.
Rail and bus service is very good, but you have to follow their schedule. A good suggestion for Dublin is to take the sightseeing bus from O'Connell Street, and if you see something on the tour that you like, you can always return and visit the site separately.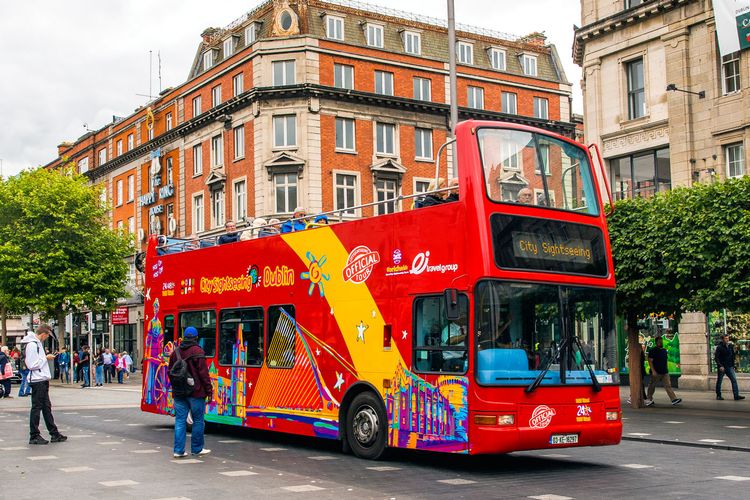 Lodging can be either in Hotels, or in Bed and Breakfast Hotels and Homes, and in Guesthouses. Hotels in Ireland are just like hotels in the US or Canada, but in homes and guesthouses there is more interaction with the host. Quality of the facilities can be assured by using  lodgings approved by the Irish Tourist Board or the Northern Ireland Tourist Board. In all our Ireland travels, we were only really disappointed once.
Our trips generally included some sight seeing, as well as genealogy research. When in Dublin, we stay at Buswells on Molesworth Street. Buswells is a little pricey, but its within a half block of the National LIbrary (Church records and Census), and the National Museum, and an easy walk to the General Register Office (Birth, marriage and deaths), Evaluation Office (land records), and the Pearse railway station.
In Northern Ireland, we stay at Clandeboye Lodge near Bangor in County Down. It's about halfway between Belfast and Carrowdore, and allows us to attend church in both Belfast and Carrowdore. My great grandparents were married in Carrowdore Church over 150 years ago.  We had our pictures take in front of the portrait of the clergy that married them.
When staying in Belfast, we have stayed at Jury's Hotel, right near the Grand Opera House, Crown Liquor Saloon, and just a short walk to the new Convention Centre. We have walked about three miles from the hotels down past the Convention Centre and through the dock area to attend church. If your taste is Queen's University, you might try Wellington Park Hotel.
Just as we are careful when in some area of Chicago or Miami, etc, it is prudent to be careful in certain areas in Belfast. A good recommendation is not to drive an auto rented in the North into Republican areas, or a car rented in the south into Loyalist areas.
After a full breakfast of eggs, bacon, sausage and tomatoes (I don't take the black and white pudding or mushrooms), a fruit scone and tea at noon should hold you until you get your evening meal. Our favourite restaurant is Ahern's in Youghal, where the steaks are tender and juicy, and the plates kept hot until the last bite.
When in Dublin, we like to visit Foley's Restaurant above Riley's Pub on Marion Row, just around the corner from Buswell's Hotel. And when doing research in the National Library, we go across the street and into the National Museum for a cafeteria lunch.
In addition to many tourist traps already described in the brochures, you might want to consider a few others in the Republic: Durty Nelly's (Bunratty), Cobh, Avoca (Ballykissangel), Newgrange, Connamara Celtic Crystal, and just to say you've been there, try Tipperary and Tralee towns.
In the second month of your visit try Northern Ireland for the Ballycopeland Windmill, Sinclair Seaman's Church, Belfast's Leaning Clock Tower, Culliver in Armagh, Inishowen, Carrickfergus Castle, Triona Weavers and the Carrick-a-Rede Rope Bridge. Did I forget to mention all the round towers, forts, dolmans and high crosses?
There are a total of thirty-two counties on the Island, twenty-six in the Republic and six in Northern Ireland. The border between the Republic and Northern Ireland is not very well defined, except that currency in the Republic is the Euro (about 87 euro for $1.00 US dollar).  In the North they use Pound Sterling ($1.00 US Dollar is about 73 British pounds).
When making purchases, consider using your credit card. The company gets a very good exchange rate, and it is reflected in the credit card billings.
Before you think about doing your family research in Ireland, it is best to search all available sources for information before you leave home. Most of the counties have a Family History Centre (check cyndislist.com) and for $25 they will do a preliminary search for you. That is a lot cheaper than a trip to Ireland with the wrong information. I checked Ulster and found where my grandparents were married, and then visited that church on our next trip.
As a general rule, the civil and church records start about 1835, unless an ancestor was of the landed gentry or had landed in jail, and then they could be earlier. Also remember that the division between the Republic and Northern Ireland was made in 1922; records for Northern Ireland after 1922 should be found in Belfast.
The first place I would start to do research is in Dublin at the National Library on Kildare Street. Always take the orientation and discuss things with a research assistant. There may be new information since your last trip.
If you know the country, town and religious affiliation, or if you know the parish or church name they will provide a microfilm number (if copied) and direct you upstairs to the reading room. Provide the tape number to the clerk, and the tape will be delivered to you at the reader. If you have an approximate date of birth, christening or marriage, you can skim right through the tape, or alternatively read each entry (sometimes not very legible) in hopes of making a connection. Remember that some names may be written in Latin or Gaelic. Try Jacobi for James and try Patritus for Patrick.
If you find a church microfilm entry that fits an ancestor, you can always visit the church and if ask politely, you may be able to see and feel the actual entry in their book. A certified record of the event may also be available. Remember that digging out the record books and providing certified copies does take someone's tie, and you should be prepared to pay the scheduled fee or make a donation.
With an accurate date of an event (birth, marriage, death), you might take a short stroll from the Library over to the General Register's Office on Lombard Street East, where the indexes are kept and see if there is a civil record of the event. You rent an index book (one Euro per volume) and you may be lucky to find the very volume you want on a desk where some else has left it.  If you want an entry copied, you simply fill out a short form.
Check Griffith Primary Evaluation books (a typed index) at the National Library or online before going to the Registration Office.  The Primary Evaluation books with changes are available for viewing at the Valuation Office at the Irish Life Centre on Lower Abbey Street. If your ancestor acquired or rented property after the original evaluation date, the change should be entered in the book. Different colours are used for different years, and the office now has a colour copier for a small fee.
A property may consist of several acres and there will possibly be other names of members listed on the same property. Maybe Frank Jones married Anna Smith and the families were next door neighbours. The basis for the property evaluation is shown, and will tell the acreage, type of house, sheds and other particulars.
If you are fortunate to locate a property  in Griffiths Evaluation, you can request a copy of the Ordnance Survey showing the property boundaries and even house location.
We found my Great Great Grandfather's property listing, obtained a map, drove to the area, and climbed the hills to find the spot. While sitting there on a barricade, I looked at the mountains above Enniskerry and Powerscourt and Alice said, "Just think, this must have been the same view that your people looked at nearly 150 years ago."  A coloured change in Griffiths indicated that the house was down in 1864.
The 1920 Federal Census for Chicago said my Great Grandmother had 12 children and through our research we have actually obtained records for 11 of them. The children were found in County Wicklow, in Enniskerry Parish in the townlands of Kilmacanouge, Ballanagee, and Ballinteskin, and finally Milltown, Dublin County.  Great Grandmother was having children for twenty-two years.
If you are lucky enough to have a grandparent born in the Republic, and can prove a paper trail, you may be eligible to become a dual citizen. Application papers are available at any Irish Consulate, who have an online presence as well.  As a foreign born Irish citizen, you can obtain your own Irish passport. Once that happens, your non Irish spouse can apply after a period of time.
(Note:   British citizenship is also available for Northern Ireland foreign-born applicants with Irish ancestors)