Scroll down to view index. Click on green or blue links to see active records.
MAPS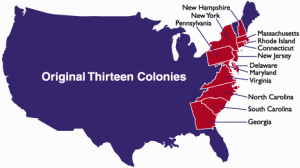 Earliest Gillespies to the USA
Links to early census & Social Security Death Index at bottom of page
Click on State name to find records.
States
Washington, DC – see District of Columbia
See Military Records on menu bar for Early Pioneers
Mayflower Descendants – 1620 Massachusetts
The Social Security Death Index 
CENSUS – click on date to find records for all states. Later census are on individual state home pages.
1810
1820 This fourth census was conducted on August 7th, showing a population of 9,638,453, of which 1,538,022 were slaves. There were a total of 291 Gillespie households: Delaware (1), District of Columbia (2), Georgia (1), Illinois (3), Indiana (10), Kentucky (24), Louisiana (2), Maine (1), Maryland (16), Mississippi (5), New York (46), North Carolina (22), Ohio (32), Pennsylvania (45), South Carolina (17), Tennessee (20), Vermont (1), Virginia (43), Additional variant spellings of Gillespie included: Gillesberg, Gillaspey, Gillispia, Gellespsey.
---
Next: WALES