A Gillespie Bible -Sumner County, TN
Family History of Lydia Gillespie of Guilford, North Carolina & Samuel B Wall of Tennessee by Andrea Weil ( link ended)
Family History of Roxanne Gillespie & John Russell of Tennessee by Bev.
Family History of Marvin Archie Gillespie &  Lola Blackwell, TN by Dena Marshall
Family History of Rebecca  Gillespie & Francis Barnhill m 1887 by Vicci Roach – links to Natchitoches Parish, Louisiana
Early Name Index,  Tennessee Co Record Books
George Lewis Gillespie, emigrated from Scotland to America during 1720. Landed at Leesburg, Virginia. Settled in Tennessee
Tennessee Miscellaneous Records: mainly tax notices and letters at Post Offices:  1799 to 1812
Gillespie Military Leaders born in Tennessee
Interesting Facts & Locations
Blount Co, Tennessee: Louisville was originally known as Gillespie's Landing, named after three founding settlers: John Gillespie, Robert Gillespie, Samuel Gillespie, who settled there in 1795. The Gillespie House was built 1802  by James and John Gillespie, sons of William Gillespie, Holstein River. PHOTO
To find it, from Alabama, take I40 to US 129 south in direction of McGhee-Tyson Airport. Continue past the airport to a fork in 129. In direction of Atlanta at the right fork proceed towards Atlanta to the next red light at Walmart. This is Louisville Road. Turn right and continue straight on to Louisville on TN 333. Past Louisville, take the road to the right named Old Lowe's Ferry Road. This ends at a campground and boat dock, named Polland Creek. Veer right and continue on Lowers Ferry Road until the pavement ends, near the old Gillespie house on the left.
---
An article by Pat Cuffey on Gillespie cemeteries published Sunday, September 22, 2013 in Rhea Herald Newspaper, Page A6 Life Styles.  See www.rheaheraldnews.com.  Includes map of cemeteries on Watts Bar Lake. The author's comments as follows:
"Both the Gillespie Cemetery and the Gillespie Slave Cemetery were mapped by the Works Progress Administration (WPA) and the Tennessee Valley Authority (TVA) and are shown in the Rhea County Historical and Genealogical Society Cemetery Book, Volume 1, complied by Betty Broyles.
The Gillespie Cemetery is on the west bank of the Tennessee River at mile 540.8, approximately one mile north of Euchee Ferry. Ten graves are found with six having monuments. The cemetery is also one mile north of Iron Hill Church, and 22 miles north of the Washington Ferry. 
Go north from Dayton on the state highway to Jinney Wallace farm, turning east on the river road. Continue up Tennessee River one mile north to a large gate on the hill. This was a family  graveyard and was abandoned  years ago. A strong iron fence surrounds it, underpinned by heavy limestone base at the gate and corners. It was formerly the Gillespie farm. This graveyard is 24 by 40 feet, and is in very good condition.
This cemetery and the Gillespie Slave Cemetery are now on a large island in Watts Bar Lake. They will not be flooded. Two of the Gillespie burials include George and Anna. George Gillespie was born June 17,1767 and died Oct 18, 1840, age 73 yrs. Anna was George's wife, born Feb 1, 1782 and died Sept 18, 1850, age 58 years old.
The Gillespie Slave Cemetery can be found on the west bank of the Tennessee River, just over a mile south of the Gillespie Cemetery and at mile 539.5. This burial place contains 38 graves, but only has three monuments. Apparently there are many additional graves scattered in the cemetery, but the underbrush has to be cut before these can be found. Only three names  have been identified: Ezekiel Gillespie, slave of George Gillespie, died in 1857; Martha J Edmonds, died in 1890 and W B Peters with no dates.
There is also a second Gillespie Cemetery on the Ten Mile Quadrangle, located approximately two miles north of the slave cemetery. The Euchee Cemetery is on the old Gillespie lands. The coloured people of this community were children and grandchildren of the old slaves. They have inherited houses and farms, given to them by their Gillespie masters. From Washington, go north about 14 miles, passing the Old Rhea Springs Water mill, then go north for about four miles to the widow McCuiston farm, thence east about three miles to the  Uchee Community. More than 50 graves unnamed and not dated.
Lou King recorded 27 additional inscriptions in this cemetery Sept 19, 1996, and these individuals were interred by three different funeral homes. To reach this cemetery, go north on Highway 27 from Spring City to St Clair. Turn right on Rocky Springs Road to Toe Spring Valley Road; continue straight ahead and follow Euchee Chapel Road turning right on Ewing Cemetery Road. The Gillespie or Euchee Cemetery is on the left side of this road.
Since both the Gillespie and Gillespie Slave Cemeteries are now on an island in a lake, they are only accessible by boat after summer season."
………………………………………………………………………………………..
James Wendell Gillespie: Physician, Statesman and Soldier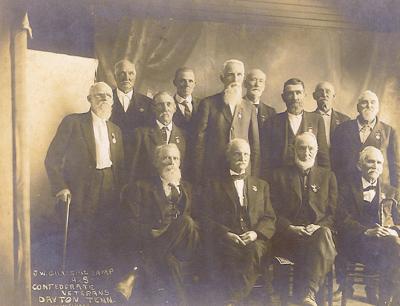 James Wendell Gillespie, born August 9, 1819, was the ninth of eleven children of Colonel George and Anne Neilson Gillespie. The Gillespie family was a wealthy and influential family who owned one thousand acres of land which they called "Euchee Old Fields." This farm was in the northern end of Rhea County, and was described as "fine farmland."
James was a brother of Robert Neilson Gillespie who married Hannah Leuty; they were parents of Adelia Gillespie; Adelia married William Perry Darwin. William Perry and Adelia were parents of Ella Adelia, my great grandmother, who married Dr. Walter F. Thomison.
James Gillespie was described as "intelligent, well educated, tall, brave in battle, and careful of his men in battle." He was also a physician, having studied in Nashville, and practiced medicine for a number of years in Washington, Rhea County. In addition, he lived on what was known as "an excellent farm" on the Tennessee River in Washington, and was a merchant and livestock trader there.
In 1846, James W. Gillespie organized Company H, which served in the Mexican War as part of the First Regiment of Tennessee Mounted Volunteer Infantry. This regiment marched from Memphis to Little Rock, then to Matamoros, Mexico, and to Tampico. He was captain of this company, and was cited for bravery at the Battle of Cerro Gordo.
Gillespie was a member of the Tennessee Legislature and represented Rhea, Bledsoe, Hamilton, Marion, and Meigs Counties in the Tennessee Senate from 1849-1853; represented Rhea, Bledsoe, and Hamilton Counties in the Tennessee General Assembly from 1859-1861. He had been a Union supporter until President Lincoln called for troops to use force against the states withdrawing from the union. Gillespie then changed sides, and supported the South. After that, Governor Isham G. Harris, Tennessee Governor from 1857-1862, appointed him as Inspector General on his staff.
In October, 1861 he resigned from Governor Harris' staff, and was appointed by the governor to organize Confederate regiments in East Tennessee. Gillespie was elected Colonel of the Forty-Third Tennessee Infantry. This regiment was organized in November, 1861, served in guard duty until it was reorganized in May, 1862. Next, the unit was at Charleston, then was sent to Humphrey Marshall's brigade in Virginia. Afterward, it joined Bragg's Kentucky campaign, and was sent to Vicksburg, where the regiment saw hard service. In May, 1863, the regiment went to Port Gibson to resist Grant's forward march. The Forty-Third was engaged at Piedmont, Winchester, Monocacy, Cedar Creek, Fisherville, White Post, Kernstown, Darksville, and Martinsburg. The Forty-Third returned to East Tennessee in the fall of 1864 and fought at Morristown, then raided Russelville. In the spring the unit served as escort for President Davis, (President of the Confederacy); then was paroled in May, 1865.
Gillespie was wounded twice during his military career, and returned to his home in Washington, Tennessee after the war; he died there October 10, 1873. He is buried in the Mynatt Cemetery in "Old" Washington, Rhea County, Tennessee.
Dr. Gillespie was Chairman of the Board of Trustees for the Academy at Washington. In 1856 a new President, who was from Connecticut was employed for the school. When he came to the Academy, he brought a single female music teacher with him. This woman evidently seemed to "fancy" Dr. Gillespie, and some of the ladies of the community became quite concerned about this matter and made it their primary business. These women, including Mrs. James Adams Darwin, Mrs. Orville Paine, Mrs. William Preston Thomison, and Mrs. W.H. Bell, had a "chat" with Dr. Gillespie. They told him that he could expect them to remove their daughters from the school if that teacher was not discharged. Naturally, Gillespie called a meeting of the Board, and the lady was dismissed!
Nancy Brazelton, (1829-1887) daughter of General William and Martha Gillespie Brazelton, married James in 1857; their marriage resulted in two children, William and Kitty. (Both children lived in New Market, Tennessee after their parents died, and were unmarried.) Nancy, their mother, was from New Market, Jefferson County, Tennessee, and was a second cousin of James. However, their common ancestor was married twice, and they each had different maternal ancestors.
This picture of the J.W. Gillespie Camp of Confederate Veterans shows William Gibbs Allen seated in the front row, third from the left. When this group was organized in 1897, Valentine Allen was Commander; W.G. Allen was Adjutant; the Reverend G.W. Brewer was Chaplain.
And this is only the beginning. . . . . . . There were other Rhea County men who served in Gillespie's Forty-Third Tennessee Confederate Regiment, or with him in the Mexican War. One of those was William Raleigh Clack, and another was John Spence, who served in Gillespie's Company during the Mexican War.
…………………………………………………………………..
"He who does not remember the past is doomed to repeat it."          (A 1900 philosopher)