A
Alex Gillespie died Aug 2, 1901, age 64, of Brights Disease. Residence 4002, St Louis.
B
Bridget Gillespie, birth IRELAND,  death March 3, 1891, Matooa, Illinois,  age 89, St Louis, Missouri, widowed
Bridget Gillespie died June 5, 1907, St Louis, Missouri, age 69 yrs. Widow Born in Canada. Street Car accident. In route to hospital in ambulance. Fracture of skull and internal injuries.
Bridget Gillespie (Mrs) died March 3, 1891, age 89. Born in Ireland, Died Illinois, Mattona. A Widow.
C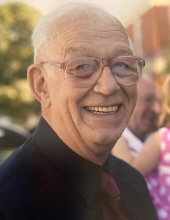 Carl Lyndel Gillespie, 90, of Hannibal, Missouri passed away at 8:10 AM, Tuesday, January 3, 2023, at Harry S. Truman Memorial Veterans Hospital in Columbia, MO. Funeral Services held at 2:00 PM, Tuesday, January 10, 2023, at the James O'Donnell Funeral Home in Hannibal, MO. Burial with full military honors by the Boots-Dickson American Legion Post #174 of Palmyra will be at Greenwood Cemetery in Palmyra, MO. There will be no visitation.
Lyndel was born December 20, 1932, in Quincy, IL to Carl E. Gillespie and Elizabeth Redd Gillespie. He was married to Virginia "Sister" Bross on July 20, 1952, in rural Palmyra, MO. They were happily married for over 70 years. She survives. Survivors include his five children, Ellen Stuhlman (Gary), Jane Pekkala (John), Roger Gillespie, Nancy King (Mark), and Leo Gillespie; three brothers-in-law, John Bross, Chester Bross, and Charles Bross; 11 grandchildren, Brian Stuhlman (Maryna), Laura Peiter (Matt), Kate Setter (Jeff), Carrie Richter (Ryan), Holly Hale, Elizabeth Moe (Chris), Thomas Pekkala, Erik Pekkala, Carl Gillespie, Christian King, and Joshua King; seven great grandchildren, Lilia Stuhlman, Oscar Stuhlman, Evan Peiter, Landon Peiter, Julia Richter, Natalie Richter, and Nathaniel Hale; and Bross nieces and nephews.
Lyndel was preceded in death by his parents, one infant son, Bruce Gillespie, father-in-law, Leo Bross; mother-in-law, Virginia Bross; and brother-in-law, Wayne Bross. Lyndel was a graduate from Palmyra High School. He later served his country proudly in the United States Army and was a veteran of the Korean Conflict.
Charles Gillespie died March 1946 in St Louis, Missouri
Clara Gillespie died April 15, 1893 St Joseph, of consumption in Burhan, Missouri. Married.
C. S Gillespie died March 2, 1912 in Vernon, Missouri.
D
D W Gillespie died July 24, 1880, pneumonia at 2139 Pine, age 32. Born Missouri, single, buried Bellfontaine  Residence St Louis, Missouri
E
Ellen Gillespie died June 3, 1901, age 37, "died in poor house". Buried Calvary Cemetery, St Louis, Missouri
Eunice Eloene Gillespie – age 96, of Fenton, died Saturday, July 21, 2018 at Vicinia Gardens. Funeral services will be held 12 PM Wednesday, July 25, 2018 at Fenton United Methodist Church, 119 S. Leroy St. with Pastor Michelle Forsyth officiating. Visitation will be held 10:30 AM – 12 PM Wednesday at the church. A private burial will be held at Sunset Hills Cemetery. Those desiring may make memorial contributions to St. Jude Children's Research Hospital or the Alzheimer's Association. Eunice was born April 3, 1922 in Saline, MI, the daughter of Raymond and Ellen (Hennon) Woodruff. She married Vincent Gillespie and he preceded her in death in April 1981. Eunice retired from Michigan National Bank as an Assistant Vice President. She was a member of Farnumwood Church where she served as a Deacon and the church Treasurer. Eunice loved traveling and had traveled all over the World. She also enjoyed reading and golf.
Surviving are: four daughters, Susan (James) Allen of Fenton, Sandra Tripplehorn of Grand Blanc, Sherry (Jack) Dagenais of Grand Blanc, and Cynthia (Tom) Harrison of Holmes Beach, FL; eight grandchildren, Gregory and Michael Allen, Jennifer (Ryan) O'Roark, Jason, Jeremy, and Joshua Tripplehorn, Heather Goodfellow, and Courtney (Benito) Goodfellow-Uresti; 10 great-grandchildren; and one great-great-grandson; three siblings, Patricia (James) Reischling, John (Doris) Woodruff; and Tom Woodruff; several nieces and nephews. She was preceded in death by: her parents; husband; brother, Norbert Woodruff; and two sisters, Audrey Resler and Nancy Lyons. Many thanks to the Vicinia Gardens staff and Amber Kelly for the special care and love they provided and to the medical team whose hospice care was exceptional.
A special thank you to Jack who was like the son to her she always wanted. Arrangements by: Sharp Funeral Homes, Fenton Chapel, 1000 W. Silver Lake Rd., Fenton, Missouri
F
Francis J Gillespie death July 19, 1889 age 6 months, 1438 Gennessee, Jackson Co, Missouri, gastroenteritis.
Fredk P Gillespie died July 27, 1880, age 1 year 7 months of meningitis, 1866 Broadway, St Louis, Missouri
H
Hannah E Gillespie died March 2, 1915, St Francois, Missouri
I
Iris Gillespie died April 11, 1906, in 335 Drury, Jackson Co, Missouri. Apasrus.
J
James Gillespie birth IRELAND, death March 1, 1858 age 33, St Louis City, Missouri. Consumption. Burial Bellfontaine.
James A Gillespie death July 10, 1898 age 61 , 2408 Forest, Jackson Co, cancer of stomach.
Jas H Gillespie birth SCOTLAND. Death Jan 15, 1858 St Louis City, Missouri. age 72 yrs. Liver complaint.
Jennie Gillespie death March 15, 1888, 10 weeks, at 319 Maple, Jackson Co, Missouri. Marasmus.
Jo Anne Gillespie, 81, Cameron, Missouri, formerly  of Hamilton passed away on Dec. 17, 2018. Jo Anne was born on Oct. 15, 1937, in Black Oak, Missouri, to Judge Allen and Mae (Hayes) Bryant. She was preceded in death by: her parents; three husbands, William Ball, Charles Stallard and Walter Gillespie; granddaughter, Rebecca Ball; stillborn twin daughters; a sister; and two brothers. Jo Anne was a 1955 graduate of Braymer High School. She was a member of the Open Bible Church, Hamilton, Missouri.
Survivors: children, Connie Ball, Weatherby, Missouri, Lisa Griffith, Salem, Oregon, Bill (Cindy) Ball, Winston, Missouri, and Mitsi (Shawn) Smith, Hamilton; brother, Tom Bryant, Jackson Hole, Wyoming; sister, Shirley Klose, Kansas City, Missouri; 12 grandchildren and 13 great-grandchildren; nieces and nephews. Memorial service: 2 p.m. Friday, Dec. 21, 2018, at Poland-Thompson Funeral Home, Cameron. Internment Little Union Cemetery, Cowgill, Missouri. Obit published Dec 19, 2018 in the St Joseph News-Press.
John E Gillespie died May 10, 1908. Born Pennsylvania. Widowed. University Hospital. Jackson, Missouri. Uremia.
John H Gillespie died Nov 6, 1914 in Lafayette, Missouri.
Jno W Gillespie died Nov 17, 1908, age 69. Born Kentucky. Residence 3633 Campbell, Jackson, Missouri. Arterio Sclerosis
Mrs J R Gillespie death Jan 7, 1888 age 32, Jackson Co, Missouri. 349 Maple. post confine ?vent disease
K
Kenneth Harvey Gillespie, 88 of Kirksville, Missouri passed away Saturday, March 28, 2020. The son of Roy and Lola (Jackson) Gillespie, he was born February 26, 1932 in Downing, Missouri. On October 13, 1951 in Chicago, Illinois, he was united in marriage to Amelia Gonzales. Kenneth is survived by two daughters, Cathryn Gillespie of Sterling, Illinois and Yvonne Amelia Ross and husband Charles of Moberly, MO; six grandchildren, Michael Pinksa, Stephanie Ross, Kathrina Hadley, Brian Ross, Kenny Pinksa and Randi Gillespie; nine great grandchildren; and several nieces and nephews.
He was preceded in death by his parents; his wife, Amelia; one daughter, Elaine Spring; one brother, Donald Gillespie and one sister, Levita Fields.
Kenneth grew up in Downing, Missouri moving to Chicago, Illinois at an early age. After meeting and marring Amelia they returned to Kirksville and ran the A&W north of Kirksville and he also ran a Shell Station. They returned to Chicago where he work varies jobs and last he worked for United Parcel Service before returning to Kirksville. He purchased a farm where he had dairy cattle and raised dogs. He worked for Truman State University until he retired. Graveside service will be held at 1:00 p.m. Saturday, April 4, 2020 at the Downing Cemetery in Downing, MO.
M
Margaret E Gillespie died Oct 11, 1899, age 36 of Brights' Disease. Married. Residence 4002 Chestnut, Jackson, Missouri
Martha Gillespie death Jan 29, 1884 Ripley, Missouri. age 28, housewife.
Martha A Gillespie death Jan 23, 1885 Ripley, Missouri. Age 28. Housewife, Married, Inflammation of bowles one week.
Mary A Gillespie death Oct 3, 1886 Jackson Co, Missouri. Age 57. Burn. 1716 Holly.
Mary Olivia Gillespie death March 22, 1858 St Louis City, Missouri, age 2 years. Burial Bellfontaine.
R
Rosa Gillespie death Oct 21, 1889 age 69 yrs, Jackson Co, Missouri. 25th & Fairmount. Typho Malaria.
T
Thomas Gillespie died March 14, 1911, Lafayette, Missouri
W
William Gillespie death Nov 17, 1908 age 80, St Louis, Missouri. Seaman, single, US Marine Hospital, valvular disease of the heart.
William Clay Gillespie death June 4, 1884 age 22 months. Audrain, Missouri. Drowned.
---
Record Count: 34
Source of Records: online obituaries; Mormon website; Missouri Secretary of State: Digital Heritage. Tribute Archive