A
A J Gillespie death Friday, March 30, 1923, age 41, Sublet, Lincoln Co, Wyoming
Alexander Gillespie death Sunday, Sept 19,1926, age 74, Rock River City, Albany Co, Wyoming
B
Baby Gillespie death Sunday, Sept 13, 1925 age 1 day, Laramie, Albany Co, Wyoming
Betty Gillespie death Sunday, Oct 1, 1922 age 7 months, Glenrock, Converse Co, Wyoming
C
Clifford R Gillespie death Sunday, March 28,1954 Wyoming
D
David B Gillespie death Saturday, Jan 30, 1937, age 58, Cheyenne, Wyoming
E
Elizabeth Charlotte Gillespie death Thursday, Oct 15, 1936, age 79, Rock River, Albany, Wyoming
Eugene Clifton Gillespie death Sunday, July 23, 1939 age 74, Carbon Co, Wyoming
F
Frank Gillespie death Thursday, March 9, 1922 age 78, Casper, Natrona Co, Wyoming
Frank W Gillespie death Sunday, Dec 4, 1955, Wyoming
G
Gergy Gillespie death Saturday, Jan 6, 1912, Evanston, Uinta Co,  Wyoming
H
Henry A Gillespie death Thursday, May 20,1926, age 75, Douglas, Converse Co, Wyoming
J
J H Gillespie death Saturday, Oct 8, 1927 age 81, Evanston, Uinta Co, Wyoming
Jack H Gillespie death Saturday, July 9, 1966 Wyoming
Jannis M Gillespie death Monday, Feb 20, 1922 age 75, Casper, Natrona Co, Wyoming
John A Gillespie death Monday, Feb 19, 1934 age 75, Cheyenne, Laramie Co,  Wyoming
John Allen Gillespie death Wednesday, April 12, 1922 Sheridan, Wyoming
John Aloysius Gillespie death Thursday, Nov 30, 1933 age 49, Cheyenne, Laramie Co, Wyoming
Josphine Gillespie death Monday, Jan 3, 1955 Wyoming
M
Marjorie E Gillespie death Sunday, Dec 18, 1966 Wyoming
Mary Alice Gillespie death Wed, Sept 30, 1936, age 13, Cheyenne, Laramie Co, Wyoming
Mary Eaton Gillespie death Friday, Nov 15, 1935 age 86, Wolf, Sheridan Co, Wyoming
N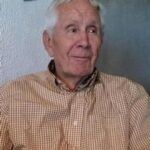 Norman "Norm" Gillespie  August 26, 1927 – Dec 6, 2017 .
Norman "Norm" Gillespie, 90, passed away Wednesday, December 6, 2017, at his home surrounded by his family. He had been a resident of Rock Springs, Wyoming for 73 years. Norm was born on August 6, 1927 in Poncho Springs, Colorado, the son of Charles Gillespie and Josephine Velotta Gillespie. He grew up and attended schools in Salida, Colorado before moving to Rock Springs in 1944.
Norm married Irma Ann Dorigatti on February 26, 1949 in Rock Springs, Wyoming. After building the Springs Motel in 1968, they continued on as proprietors and simultaneously raised their family.
Norm's interests included spending time with his family, especially his grandchildren and great-grandchildren, hunting, spending time at the family summer home in Bondurant, Wyoming, and advocating for Wyoming wildlife and public lands. Norm is survived by his wife Irma Gillespie, two sons; Dale Gillespie, Mark Gillespie and wife Lisa, one daughter; Marianne Spence and husband Robert, five grandchildren; Amber Greene, Tarynn Martin, Hunter Gillespie, Lennon Spence and Noah Spence, two great-grandchildren; Harlow Stevenson and Jaxson Stevenson, all of Rock Springs, Wyoming, and several nieces and nephews.
Norm was preceded in death by his parents, one son; Ronald Gillespie, two daughters; Gail Ann Gillespie and Norma Jean Gillespie, two brothers; Lawrence Gillespie and Russell Gillespie, and one sister; Donna Mae Faler.
Cremation has taken place and a Mass of Christian Burial was celebrated at 11:00 A.M. Tuesday, December 12, 2017 at the Saint Cyril and Methodius Catholic Church (SCM), located at 633 Bridger Avenue in Rock Springs, Wyoming. A vigil service with rosary was recited at 6:00 P.M. on Monday, December 11, 2017 at SCM.
T
Thomas Gillespie death Wed, May 21, 1919 Dixon, Carbon Co, Wyoming
Thomas Gillespie death Thursday, July 10, 1924 age 21, Cody, Park Co, Wyoming
W
William G Gillespie death July 7, 1959 Albany Co, Wyoming
---
Record Count: 26
Source: Wyoming State Archives, Funeral  Home Obituaries